Why the Downsize Move Is the New Move
Why the Downsize Move Is the New MoveA look into the downsizing trend in South Florida
MAY 10, 2019
As one of the tax favorable states in the nation and a "mostly sunny" weather forecast year-round, Florida continues to be the select location for a large pool of buyers that includes affluent consumers and retirees. Specifically, in the South Florida real estate market – one of the leading luxury markets in the nation, this pool of buyers can browse some of the most extravagant homes.
But living trends can change as often as the seasons. And with it, the real estate market. What is the trend for this growing buyer pool in Florida? …Downsizing with a hint of minimalism. For a large portion of these buyers, especially those from out-of-state, the investment in a comfortable lifestyle and a selection of amenities is the key focus. This is reflected across the variety of luxury developments in the region who place emphasis on their leisure amenities and ideal locations.
Recently, Rose Sklar, an affiliated agent with Coldwell Banker Residential Real Estate in Florida and luxury market expert, organized a panel discussion to discuss the downsizing trend and its impact on the South Florida market. For those considering making the move, here is insight directly from the experts in the field: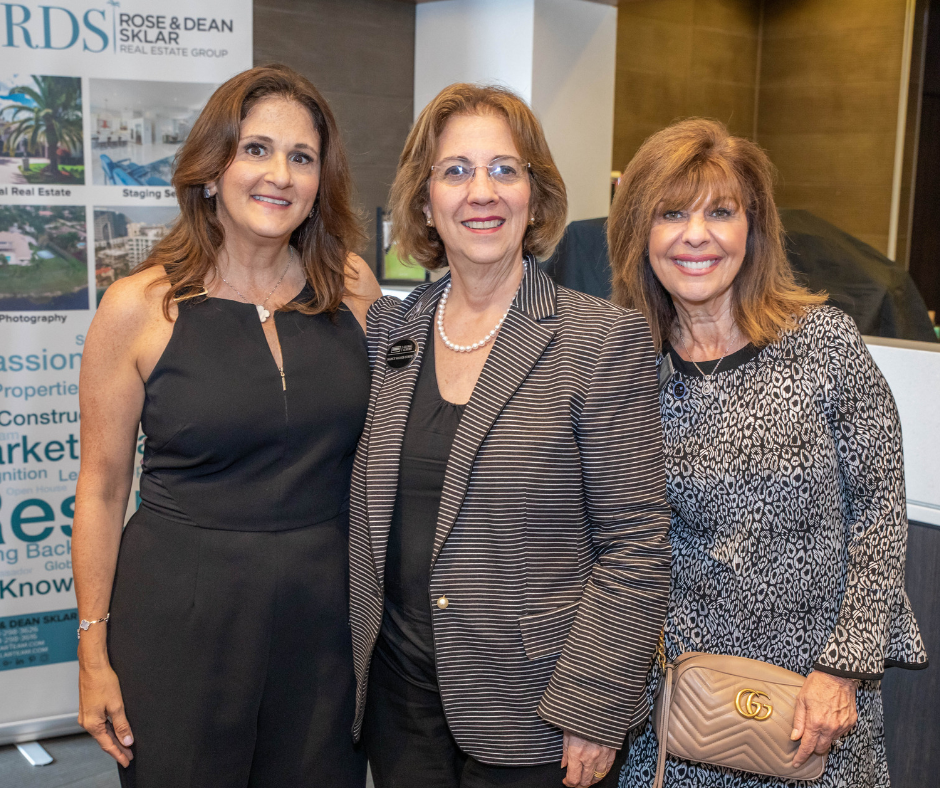 From left to right: Rose Sklar, Nancy Klock Corey, Ruth Papuchis Grelewicz
What kind of homes are South Florida buyers favoring?
 "There is a trend for buyers to select smaller and more minimalist homes that also provide more amenities, clean lines and are buyer-ready. The buyer pool is very busy and with anything between 600 to 800 people per day moving to Florida, buyers tends to prefer a finished product, which gives new construction the appealing edge." – Nancy Klock
Corey, regional vice president of Coldwell Banker Residential Real Estate, Southeast Florida
Why is 'vertical living' popular?
"We are seeing the Baby Boomer generation really investing in vertical living. For some of these buyers, the big "McMansions" are becoming way too big and expensive to run or they simply prefer a more minimalistic home that can offer resort style amenities including gyms, walkability, large balconies, pet friendly community and the new concept "concierge living". – Rose Sklar, Rose & Dean Sklar Team with Coldwell Banker Residential Real Estate's Weston office
What is this expert's advice for those looking to make the move?
"For those looking to make the change and list their property on the market, it is crucial to make the property look as updated as possible. I recommend renovating the house before putting it on the market, especially the kitchen and bathrooms. Other simple steps can make a big difference like, removing dated drapes and curtains, repainting the kitchen cabinets and changing out hardware and light fixtures for a more contemporary look." – Rose Sklar
What should you know when purchasing a new construction condo?
 "When you move to new construction or communal living, initially, the developer controls the association. Once 75% are sold, typically the developer will turn over the association to the unit owners. Most condo associations require an interview when purchasing resales in the building. This is not true of brand-new construction. However, the condo can run credit and background checks upon purchase."       – Lee Glassman, The Glassman Legal Group
ROSE SKLAR SOUTH FL REAL ESTATE SOUTH FLORIDA
Athena SnowSenior Manager, Public Relations for Coldwell Banker. Grew up in south Florida as an avid Seminole fan and attended college in the mountains of North Carolina. Athena wanted to wake up in that city that doesn't sleep so headed to Madison Avenue to start her marketing career. Athena has been with this awesome brand for more than 15 years and can be found generating buzz about CB in every way possible. The one area of her job she loves the most is overseeing the Coldwell Banker Homes for Dogs Project in partnership with Adopt-a-Pet.com where hundreds of thousands of dogs have now found their fur-ever home. In her spare time, you can find her either digging up a new area in her yard for another flower bed or planning her next travel adventure. She resides with the Bukowski of our generation (AKA her husband) along with her cats Jolene, Ziggy and Lucy in Atlanta, Ga.