5 Kitchen Update Trends
5 Kitchen Update Trends
Whether you're looking to invest in simple updates or a complete kitchen renovation, you can't go wrong incorporating the latest design trends to enjoy now as well as boost your home's value when it comes time to sell. If you're not sure where to begin, check out our list below featuring on-trend elements we think will give you the most "bang for your buck."
FEB 27, 2019
The following is a guest post from Patti Stern
Whether you're looking to invest in simple updates or a complete kitchen renovation, you can't go wrong incorporating the latest design trends to enjoy now as well as boost your home's value when it comes time to sell. If you're not sure where to begin, check out our list below featuring on-trend elements we think will give you the most "bang for your buck."
Kitchen Renovations by PJ & Company Staging and Interior Decorating; Photo Credits: Steven Seymour and Jeff Kaufman
1. Cabinet Color. Replacing or repainting dark, dated cabinets is a priority in any kitchen update as cabinets are both an aesthetic and functional focal point which get noticed immediately by buyers. In the kitchens pictured above, we use bright white shaker cabinets which remain a current favorite to brighten the space and provide a clean, modern appeal. For the first kitchen pictured, we introduced on-trend navy blue for perimeter cabinets and a built-in pantry and coffee bar to add depth and contrast to the white subway tile backsplash, white Quartz counters, wood flooring and stainless-steel appliances.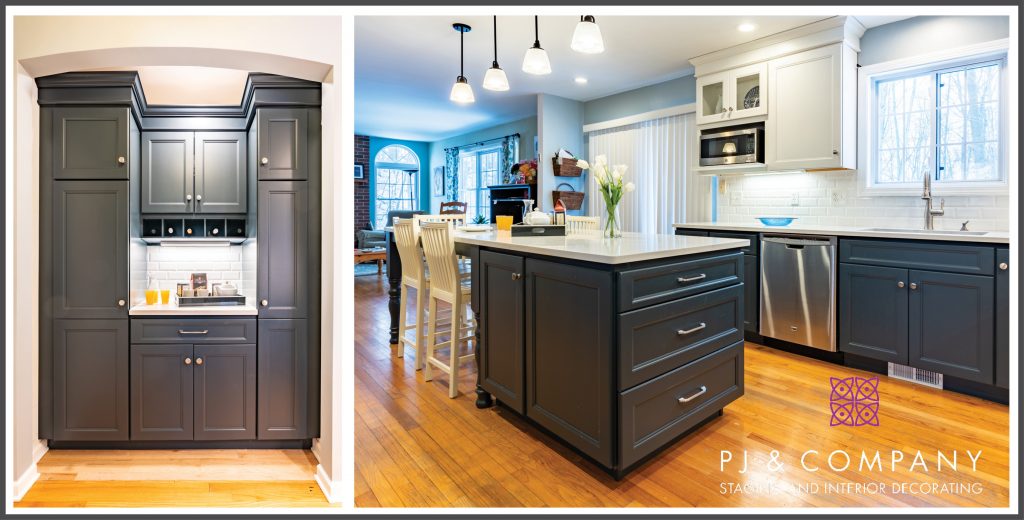 Kitchen Renovation by PJ & Company Staging and Interior Decorating; Photo Credit: Steven Seymour
2. Custom Storage. According to a recent Houzz study, "a top functional priority, cited by 63 percent of renovators, was having a kitchen in which it's easy to store and find items." In the kitchen above, we chose a large island that functions as both a work area with extra storage below as well as a casual eating space with bar stools. The surrounding custom cabinetry and built-in storage units add to the room's efficiency and enhance the clean lines and modern style.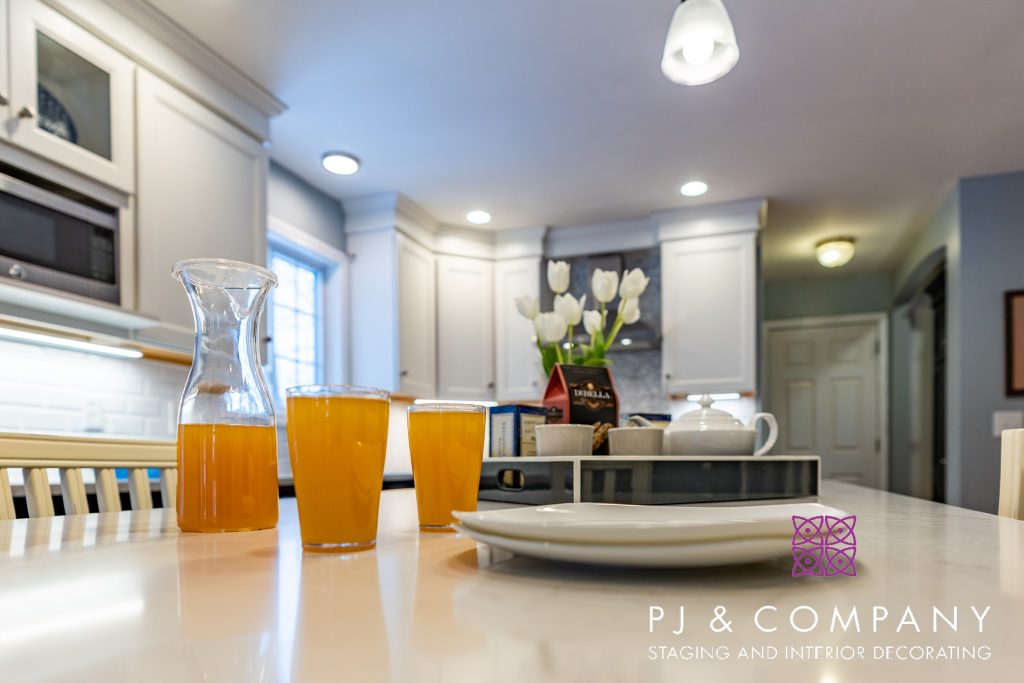 Kitchen Renovation by PJ & Company Staging and Interior Decorating; Photo Credit: Steven Seymour
3. Quartz Countertops. The Houzz study also found that Quartz (used for the island and counters in our kitchen remodel above) was the most popular countertop material in 2018. It has become a growing alternative to granite and marble for its durability, versatility and custom appeal.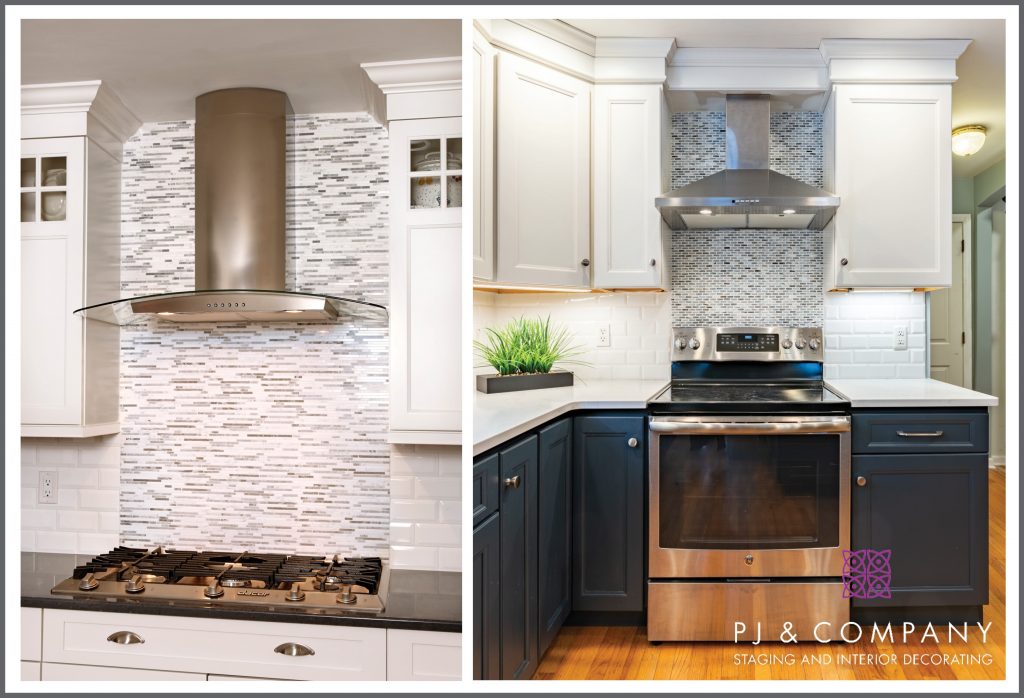 Kitchen Renovation by PJ & Company Staging and Interior Decorating; Photo Credit: Steven Seymour
4. Full-Tile Feature Walls. With the popularity of open first-floor layouts and kitchens with wall-free transitions, there is more of a need for a focal point. One of the trends we continue to see is beautiful feature walls with counter-to-ceiling tile either behind floating shelves or a range hood (as shown above). Whether choosing a shimmery glass finish or a bold geometric pattern, it's a cost-effective way to add high-end style, texture and depth.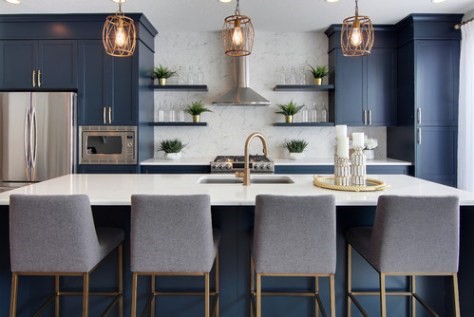 Image Credit: Houzz
5. Mixed Metals. Designers are now selecting a mix of metal finishes for faucets, hardware, lighting and appliances to add a new level of depth, sophisticated style and personality to a space. Be careful not to choose too many different finishes that compete with the surrounding colors and materials. Keep it simple with two metals that balance the room well. A primary finish such as a cool chrome or stainless steel should take up two-thirds of the fixtures then choose a warmer accent such as antique brass for the remaining third.
For more examples of interior decorating and home staging, visit www.pjstagingdecorating.com.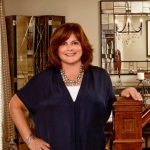 AUTHOR: Patti Stern, principal, interior decorator and professional stager of PJ & Company Staging and Interior Decorating, has been decorating and staging homes since 2005. She and her team provide turnkey, full-service home staging and interior decorating to clients across Connecticut, New York and Massachusetts. She also developed an award-winning staging program for luxury homebuilder, Toll Brothers. Her company is a 5-time Best of Houzz Award winner, 2015 – 2019. Patti has been featured in Connecticut Magazine, the Hartford Courant, Danbury News-Times and on NBC Connecticut and FOX TV.  She is a regular contributor to the National Association of Realtor's Blog, "Style, Staged and Sold." For more information, contact Patti Stern at 203-640-3762 or patti@pjstagingdecorating.com
Sam ShalomSam is the Marketing Coordinator for Coldwell Banker Real Estate. He is Jersey born and bred, and currently resides in Roseland, NJ. He is an avid reader, loves Games of Thrones and is a New York Yankees die-hard.
You can follow him on Twitter @World_Shalom